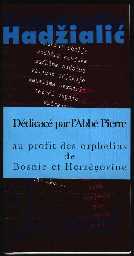 Uz pomoc prijatelja iz USA koji pomazu projekt Sabahudina Hadzialica i izdavaca njegove knjige poezije "Testament" Promethee iz Grenobla "Pomoc sirocadima BiH": Judith Mann, George Box, Lois Beran, Andrea Tacke, Phyllis Master i Michale Gabriel djeca su dobila na poklon skolski pribor, no slike govore same za sebe o druzenju u Bugojnu (Hotel "Kalin"-moja kcerka Sabina Hadzialic je urucila poklone iz USA) na dan June/Lipanj 4, 2001.g. i u Sarajevu (prostorije organizacije "Obrazovanje gradi BiH") na dan Jun/Lipanj 5, 2001.g. Hvala Vam, dragi prijatelji iz USA.
Izrazavam zahvalnost direktoru Hotela "Kalin" u Bugojnu, gosp. Ragibu Kolaincu koji nam je ustupio na besplatnu upotrebu Kongresnu salu. Zahvalnost ide i gosp. Nikici Radicu iz Pro Medico apoteke iz Bugojna koji je na sebe bio preuzeo ulogu plaanja osveenja (sokova) tokom mog sastanka sa djecom. Fotografije je uradio gosp. Mehmed Seketa.

With the help of my friends from United States of America who helped the project of Sabahudin Hadzialic and the publisher of his book "Promethee" from Grenoble titled "Help to the orphans of BaH": Judith Mann, George Box, Lois Beran, Andrea Tacke, Phyllis Master and Michale Gabriel the children has received as a gift a school equipment, but instead the words, the photographes expressed everything about the event in Bugojno on June 4th 2001 (Hotel "Kalin"- my daughter Sabina Hadzialic hand out the gifts from USA) and in Sarajevo on June 5th 2001 (premisses of the organization "Education builds Bosnia"). Thank you, my dear friends from USA.
Also, I would like to express gratitude as well to director of Hotel "Kalin", Mr. Ragib Kolasinac who gave us free of charge to use the Congress (conference) room of Hotel for having the meeting of this kind. Big thanks also to Mr. Nikica Radic from Pro Medico pharmacy from Bugojno who paid all the refreshment drinks (juices) during my meeting with the children.
Author of the photos was Mr. Mehmed Seketa.
BREAKING NEWS...OCTOBER 2001...CLICK ON THIS LINK TO FIND OUT HOW IT WAS FOR US DURING THE VACATION IN FRANCE IN SUMMER OF 2001... NAJNOVIJE VIJESTI...OKTOBAR 2001.G...KLIK NA OVAJ LINK DA BI SAZNALI KAKO NAM JE BILO U ODMORU U FRANCUSKOJ LJETA 2001.G.
Bugojno, 4.06.2001.
Media was present in Bugojno and Sarajevo as well:
TV- TV OBN from Sarajevo, TV KISS from Kiseljak, TV Bugojno from Bugojno, TV Hayat from Sarajevo
Radio- Radio BaH from Sarajevo, Radio Bugojno from Bugojno
Press- Slobodna Dalmacija, Jutarnje novine, Dnevni Avaz.
First article was published in Dnevni Avaz by Azam Mandjic on June 9, 2001. Please, click on it to enlarge.

The second article has been written by Mr. Josip Senda within the newspaper "Slobodna Dalmacija" on 11.06.2001.
Please, click to enlarge.
Sarajevo, 5.06.2001.
Fotografija gosp. Judith Mann, jedne od donatora. Klik na sliku da udjete na njenu WWW stranicu. Uskoro ce i ostale fotografije donatora biti online. Photo of Mrs. Judith Mann, one of the donors. Please, click on photo to enter her WWW site.

Donator Gosp. Lois Beran, USA.
One of the donors. Mrs. Lois Beran from USA.

Zahvaljujem se gosp. Nafi Bevrnji iz Islamskog Centra Bugojno, sestri Andjelki iz Zupnog Ureda Bugojno i gosp. Jovanu Divjaku iz organizacije "Obrazovanje gradi BiH" iz Sarajeva na svestranoj pomoci u realizaciji ovog projekta i koordinaciji priprema za odlazak u Francusku ovoga ljeta.
I would like to express a gratitude to Mrs. Nafa Bevrnja from Islamic Centre of Bugojno, Sister Andjelka from the Parish office of Bugojno and Mr. Jovan Divjak from the organisation "Education builds Bosnia" from Sarajevo for all kind of help within the realisation of this project and coordination of the preparation for the trip to France this summer.