Please check out the articles and the photographs about the Promotional tour for the book of poetry "Testament", written by Sabahudin Hadzialic, organized by "Promethee" Grenoble. The book was promoted in Grenoble, Annecy, Tournus, Bourg, Chalon Sur Saone, St. Egreve, Macon and Chambery during 14 days- 8.10. - 22.10.1998.
On a first day Sabi and his wife Amira went by plane from Split, through Paris down to Lyon. 8.10.1998. Michel Neveu from Promethee was waiting for them at Lyon Airport.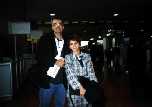 On a third day Sabi went to Annecy and the Promotion was held in Theatre near by DECITRE bookshop which was
organizer of the event at 5 p.m on 10.10.1998. Later on Sabi was a guest of honour at Dr. Joelhe's house in Annecy.


On Monday, October 12, 1998, Sabi had a promotion in Emmaus Community in BOURG.